Gloo Deals
Deal One $2010.00, Buy 10 x 18kg pails @ $2010.00 and receive a FREE IMEX Moisture Measurer (RRP $99.00) by redemption + BG37 Barrel gun + Soudal Notched Trowel
Item SOUD120626 SOUDAL - SMX-30P - BEIGE 18 KG (3 X 6KG BAGS) SOUDAL SMX-30Plus is the strongest flexible adhesive available on the market today
• Comes in an 18Kg pail which holds 3 x 6kg sealed bags for your convenience
• Approved by the CSIRO
• Contains a true moisture barrier, not just a vapour barrier
• Walk on after 2 hours, sandable after 12 hours
• When trowelling, forms stable peaks due to the low slump characteristic
---
Deal Two Buy 120 x 600ml SSG @ $1133.00 and receive a FREE IMEX Moisture Measurer (RRP $99.00) by redemption + BG37 Barrel gun + Soudal Notched Trowel
Approved by the CSIRO
• Contains a true moisture barrier, not just a vapour barrier
• Walk on after 2 hours, sandable after 12 hours
• When trowelling, forms stable peaks due to the low slump characteristic
---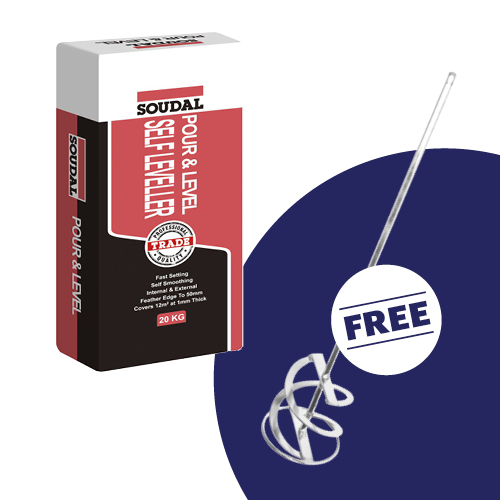 Deal Three Buy 20x Pour and Level 20kg bags @ $745.50 and receive a FREE helical mixing paddle free
SOUDAL POUR AND LEVEL SELF LEVELLER
• Feather edge to 50mm in one application
• Internal and external application using the same product
• One product for most applications

Pour & Level is an internal and external self-levelling cementitious underlayment, specifically formulated for preparation of concrete sub-floors prior to the laying of floor coverings.
The specially selected cements and polymers contained in Pour & Level produces a fast setting underlayment with exceptional adhesion to most flooring materials.
APPLICATIONS
Suitable for levelling subfloors prior to applying Soudal timber flooring adhesives. Apply Pour & Level to the primed substrate using a screed bar or trowel to give the required thickness.
Maximum thickness applied in anyone application can be up to 50mm. Pour & Level has a working time of approximately 10 minutes.
FEATURES & BENEFITS
• Fast Setting • Self-Smoothing • Internal & External • Feather Edge to 50mm Covers approximately 12sq at 1mm Thick • CDA Recommends that you use the correct primer with this product.
---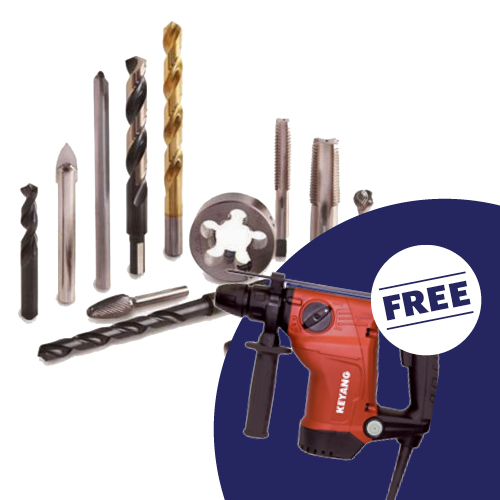 Deal Four
Buy $1000.00 of fasteners, nails, staples or carbide drills and chisels And $500 of SMX30 and/or Leveller and receive a FREE Keyang rotary hammer. RRP $605.00 ONLY 6 AVAILABLE! HURRY!
---
Contact us below to enquire about these deals or place an order.